Walking Breaks in the Highlands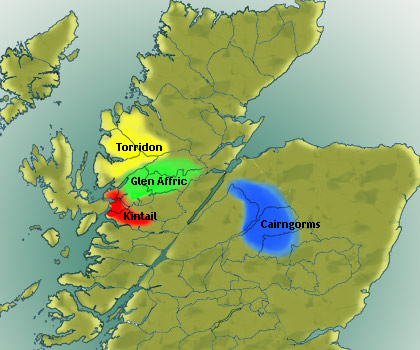 Glen Affric
Affric Munros - WSB1

Day 1 Inverness to Glen Affric
We spend time visiting the Caledonian pine forest of the Glen Affric NNR and catching glimpses of the days to come. A short walk to Coire Loch ensures that our boots are ready for the munros.

Day 2 Tom a Choinnich & Toll Creagach
We ascend Tom a Choinnich (1112m) from the wild Gleann nam Fiadh via the Creag na h-Inghinn ridge which leads us to the large summit cairn. Descending to the Bealach Toll Easa we journey on to the summit trig point a top Toll Creagach (1053m). Our reward is a 360˚ view of the Scottish Mountains looking at both coasts from the same spot!

Day 3 Affric Horse Shoe
A serious mountain expedition within the Glen Affric NNR, climbing Sgurr na Lapaich (1036m); Mam Sodhail (1181m) and Carn Eige (1183m) We traverse steep sided ridges and bag several tops, whilst enjoying spectacular views and remote countryside from the highest mountain between the Great Glen and Iceland!

Day 4 Glen Affric to Inverness
We walk through the Corrimony RSPB Reserve via a seldom-used trail that provides fine views along Glen Affric to the west. Scottish crossbill, black grouse, green shank and crested tits are all on the tick list today before returning to Inverness.





3 nights / 4 days
Price
Start
Grade
own dates
contact us
£200 pp
based on 4 people
Inverness
Intermediate
peaks: Tom a Choinnich, Toll Creagach, Mam Sodhail, Carn Eige, Beinn Fhionnlaidh
Cairngorms
Cairngorm Discovery– WSB2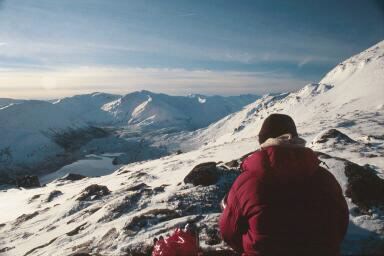 Day 1 Inverness to Grantown
On route to our accommodation we stop to explore the Caledonian pine forest of Rothiemurchas and enjoy a circular walk around the beautiful Loch of the Island.

Day 2 Tom a Choinnich & Toll Creagach
Our route leaves Glenmore and passes through the Ryvoan pass past the emerald coloured loch of Lochan Uaine. We are afforded fantastic views of the Abernethy forest and RSPB reserve. The shapely pointed summit of Bynack More is soon before us and once gained provides fine views to the Cairgorm massif and the granite tors found here.

Day 3 Cairn Gorm & Ben MacDui
This is a big day. We travel around the northern corries up onto the cairngorm plateau to reach mighty Ben Macdui (1309m). From this 2nd highest point in the UK we return back across the plateau with the option of visiting Cairngorm (1244m) before descending and returning to our accommodation for a well earnt dram.

Day 4 Grantown to Inverness
This low level walk takes us through the Abernethy Forest - the largest remnant of ancient Caledonian pine forest in the UK. We visit picturesque Loch Garten and the RSPB Reserve keeping eyes peeled for osprey, capercaillie, Scottish crossbills, crested tits and golden eye, before returning to Inverness. Loch Garten RSPB Reserve.





3 nights / 4 days
Price
Start
Grade
own dates
contact us
£200 pp
based on 4 people
Inverness
Challenging
peaks: Bynack More, Cairn Gorm, Ben Macdui
Kintail
Kintail– WSB3

Day 1 Inverness to Morvich
From Inverness we travel through the Great Glen beside Loch Ness before heading west and through Glen Shiel.

Day 2 The Saddle & Sgurr na Sgine
The traverse of The Saddle (1010m) via the scramble up the Forcan Ridge is a classic mountain route but coupled with the ascents of Sgurr na Sgine (946m) and the sharp peak of Faochag, this is one of the best days out in the Scottish mountains.

Day 3 Five Sisters of Kintail
These 5 awe-inspiring maidens rise from beautiful Glen Shiel to 1067m. Glaciation and weathering has transformed their western faces into steep sided glens, lined with fine ridges. We follow the undulating ridge from east to west, staying at eagles eye level for 7km before descending to the shores of Loch Duich and the western seaboard.

Day 4 Morvich to Inverness
Before departing from Kintail, we take a step back in time. Journeying back 2000 years, we visit 2 ancient well preserved brochs before taking in the dramatic view of the 5 Sisters from Ratagan Pass on our return journey to Inverness.





3 nights / 4 days
Price
Start
Grade
own dates
contact us
£200 pp
based on 4 people
Inverness
Challenging
peaks: The Saddle, Sgurr na Sgine, Sgurr na Ciste Duibhe, Sgurr na Carnach, Sgurr Fhuaran